So you're about to dig or excavate on your property? Removing a tree? Or maybe you're installing a fence?   Whatever the project is, you hire someone to perform the job. Before they start working, they inform you that they cannot move forward without locating all possible utilities. Maybe you're about to dig yourself! But before you do, you need to make sure you are avoiding damage to utility lines. And, more importantly, injuring yourself or endangering others.
It is always a wise idea to locate underground utilities before performing any type of digging or excavating on your property. The best approach is to contact 8-1-1 to mark the public utilities. Also, contact a private locator for those private utilities that 811 won't mark. 811 or public utility locators will not mark any private lines. This is where a private locator, like Penhall Technologies, would step in and complete private utility locating.
What is 811?
As defined on their website, www.call811.com, "811 is the federally designated call before you dig number that helps homeowners and professionals avoid damage to vital utility lines". Such utility lines can include: underground water lines, electrical or power lines and natural gas lines. Calling 8-1-1 will prompt the locate crews to come out and locate public utilities only.
How do I know which are public lines and which are private lines?
Simply put, a utility company owns and maintains a public utility line or cable. Meanwhile, a property owner owns and maintains a private utility line.
The utility company determines public utility lines themselves, and the maintenance usually ends where the meter of the particular line is. Beyond the meter and up to the building or home, including the backyard is then consider a private utility, for which the property owner is responsible for.
Here is an illustration, provided by 811, that further clarifies what that means: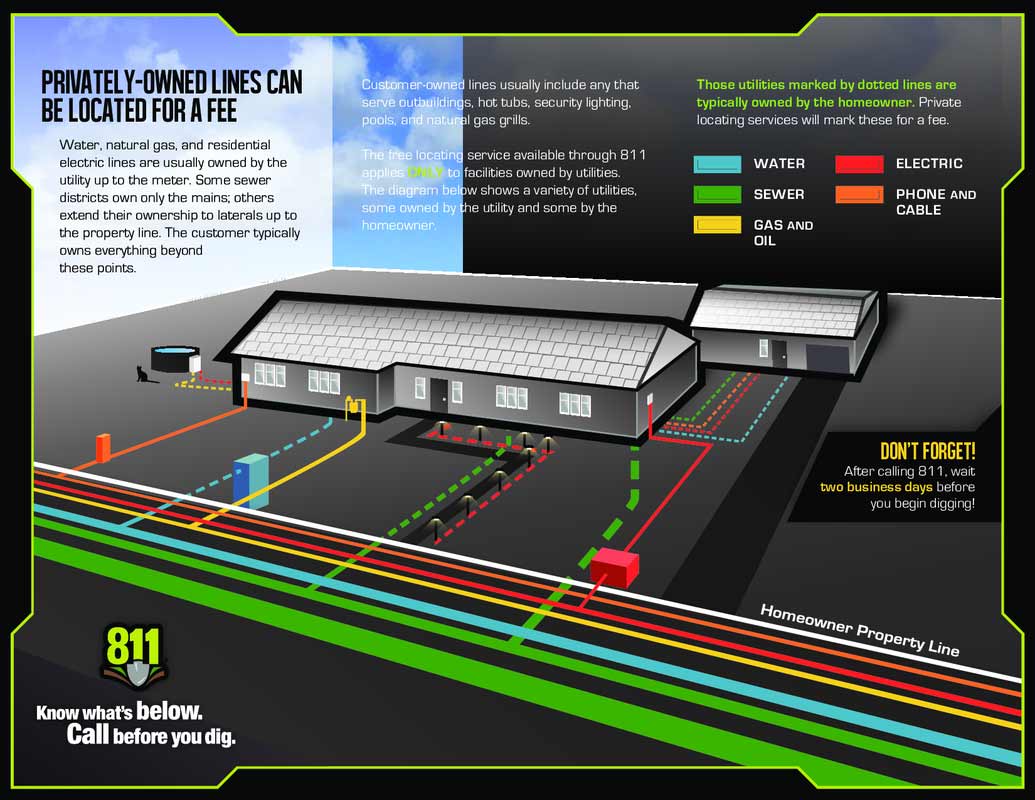 Who does the private utility locating then?
A private locator, like Penhall Technologies, can mark privately owned and maintained lines. Penhall will locate privately owned utility lines and more, including propane and septic tanks and lines, sprinkler systems, power to a detached garage, underground tunnels and even unmarked underground grave sites.
Besides residential homes, other areas where private utility lines are common include closed or gated communities, apartment complexes, schools/universities, hospitals, business/industrial areas, government facilities, etc.
So before you dig, trench, or renovate, the best approach is to call both 811 and a private locator such as Penhall Technologies, this will ensure you are covering all bases. Do your part and keep your project safe, avoid possible damage, and avoid striking a utility line that could have disastrous repercussions.